Ex-soldiers burn effigies of PM, FM, Defence Minister for OROP delay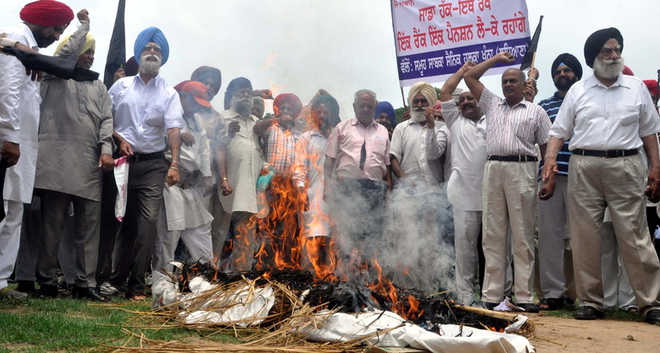 REPORTS FROM JM ON18/07/2015 WHEN THE HS ENTERS THE 34th DAY
Today is 34 day of RHS at JM. The mood is upbeat and morale is sky high. Jathas after Jathas are coming from all over India for observing RHS and to fight against injustice heaped on ESM. ESM from Mumbai, Pune, Chennai, Bhopal, Mangalore, Reva, Bhopal, Chhindwara, all dist of Punjab and Haryana, HP, Uttar Khand, Jammu and Kashmir, UP, Bihar and even WB have participated in RHS. Supporters have come from all states to raise morale of ESM on RHS and organisers. ON AN AVERAGE MORE THAN 30 ESM ARE OBSERVING RHS EVERYDAY. ON SOME DAYS WE HAD MORE THAN 100 ESM ON RHS.
Organisers morale is high because veterans are contributing with large heart for the agitation and to offset the expenditure of agitation. It is for information of all that on an average exp at the venue is around Rs 25000/ per day. Full account of donations received and expected expenditure will be put on net in a day or two.
Some veterans who have never shown their face at JM and have never helped in administration and who are working on behest of forces inimical to success of OROP are spreading unpleasant information of happenings at JM. We request all veterans to be careful and give them a suitable reply by coming to JM in large numbers and see the upbeat mood of organisers and ESM observing fast. This will give you real time situation at JM.
RHS is becoming stronger as the days go by, resolve of organisers and participants is hardening and they will not stop this agitation till OROP letter is issued.
UFESM have only one complaint with ESM in NCR (Delhi, Noida and Gurgaon) that they are not participating and are not even coming to support the ESM on RHS. Friends One can not achieve OROP by sitting in drawing rooms and criticizing the agitation. This trend of thinking that if OROP will come we will also get it, why go to JM in this humid and hot weather, does not behove a soldier. For your information Intelligence bureau man sits at JM every day on duty and he has commented that ESM population in NCR region is more than 2 lacs then why strength at JM does not not cross even 100 at times. He is sending IB report with pictures thrice a day. Friends we can not get OROP by staying at home, we will have to take trouble of leaving air conditioned comfort of home and come to JM to support and show solidarity with fasting ESMs. This will send a strong message to North and South block and only then they will agree to clear OROP.
IF YOU WANT OROP THEN COME TO JANTAR MANTAR IN LARGE NUMBERS TO SHOW SOLIDARITY WITH FASTING ESMs
Veteran Anna Hazare has given his consent to come from Ralegaon Maharashtra to come in support of the agitating ESM at JM on 26 July but our friends at Noida, Delhi and Gurgaon can not find time to come to JM or should I say that they are too lazy to venture out in this heat.
UFESM REQUESTS DELHIETS, NOIDAIETS AND GURGAON RESIDENTS TO PLEASE COME TO JM IN LARGE NUMBERS EVERY DAY.
YOU WILL BE SURPRISED LAWYERS FROM DELHI BAR ASSOCIATION, COLLEGE STUDENTS AND OUR CIVIL FRIENDS HAVE PARTICIPATED IN RHS AT JM, ONLY MY FRIENDS FROM NOIDA, DELHI AND GURGAON ARE FEELING SHY OF SHOWING THEIR FACE AT JM AND STANDING IN SOLIDARITY WITH FASTING ESM AND ORGANISERS.
Presence of Military Veterans & their spouses
Ex-Servicemen Rally for OROP
At the Junction of SJP Road and JC Road
Please come with Cap, Medals and Identity Card
M PRABHAKARAN, KARNATAKA STATE CONVENOR. AFVAI, 9880016240