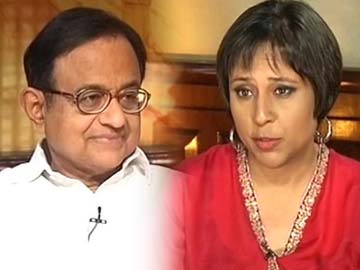 NDTV's Barkha Dutt speaks to Finance Minister P Chidambaram. Here's the full transcript of the interview:
NDTV: Let's then focus to what's our 9th budget. There are those who would say that in this Interim Budget, it couldn't be too much of an event but the one, but the one pattern that could be spotted was that you were trying to woo a constituency that was not being typically being wooed by the Congress, the military constituency, the ex-servicemen with One Rank One Pension, the urban Indian. Usually the Congress is quoted in rural India. Let's start with One Rank One Pension. It was typically something that was pending for at least 5 years. Has it now been pushed through because Rahul Gandhi said it should be so?

P Chidambaram: These are such predictable questions

NDTV: Because there seems to be a script. He meets the servicemen last week and then he announces the 500 crore sop

P Chidambaram: Please remember that the One Rank One Pension has been corrected three times by the UPA government

NDTV: But partially implemented not to the satisfaction of the community.

P Chidambaram: That's not correct. I have the facts and you and your viewers should know the facts. We corrected it in 2006, we corrected it again in 2010, we corrected it again in 2013 and we closed the gap for 4 ranks, so what is left is 2 Other Ranks, OR, and 2 other ranks and the officers category. That is what is left out. And therefore we've got the last rank in this journey of correction, we have walked a substantial distance since 2006 and we walked the last mile and we said let's close the gap completely. So this is a process. That process which the Vice President of the Party met with ex-servicemen at some point and said I'll take up your cause. Well I congratulate him for that. The point is these are discussions that have been going on for quite some time within the government, within the Finance Ministry or Defence Ministry before I drafted my speech, I started writing it a several days before.

NDTV: Well before Mr Gandhi met with ex-servicemen?

P Chidambaram: Drafting started much before that, but the process is going on since 2006. But consultations within the Party, within the government, I can share with you, have been going on for at least a month now.

NDTV: There are military personnel who have raised concerns that 500 crores are not enough and that the Defence Ministry estimated 1300 cores, now it is 1700 crores. Will this be implemented? Now it is up to the next government.

P Chidambaram: In fact I gave this news, the first estimate was about 1300 crores, the second estimate was based on earlier calculations, 1700 crores. The final estimate is 500 crores, the number is not relevant

NDTV: And you believe that number is sufficient to be implemented for years?

P Chidambaram: The number is not relevant. I have made it absolutely clear in my post budget discussion. This number I've taken because the MoD has given me this number. But whatever it requires will be given next year. As an earnest, I have given the 500 crores due next year, even this year. I'm transferring the 500 crores this year. I'm not passing on the burden. In fact I'm relieving the burden in the next fiscal year.
SOURCE: CLICK LINK BELOW